In what ways does digitization shape the way users consume entertainment media and sports in particular?
I observe at least two major, interdependent developments: First, the consumption of entertainment media has shifted heavily into the digital space, where a convergence of image, audio and text formats can be observed. The smartphone has become the device of choice. It seems important to me that human interaction also increasingly takes place in digital spaces. "Digital campfires" in the form of social media platforms such as TikTok, Instagram or Twitch enable a previously unimagined level of interactivity in real time.
Second, the criteria by which users decide to consume a specific medium have changed. The key decision factors for consumers are personalization and convenience. Users are increasingly compiling their own media portfolio with various formats from different providers and are more frequently resorting to search engines to find content. The quality of content remains central, but it must be possible to consume it efficiently.
What conclusions can be drawn from these developments for the future of sports consumption? Are live sports events endangered by new digital formats such as highlight clips?
I am certain that the on-site fan experience in sports stadiums will by no means lose its importance. The proximity to the action and the collective experience of a sports event culminate in an experience that cannot be replicated in sports broadcasts and short highlight clips.
In my opinion, live broadcasting, too, will form a key part of sports consumption in the future. Its real-time nature contributes to the identity-creating, social components of sports. After all, if you don't watch a sports event live, you're excluded from the discussion during and immediately after the event. Moreover, the level of excitement for viewers is highest when the outcome of a match is unknown.
Nevertheless, I am convinced that digital technology offers great and too often untapped opportunities to create more attractive experiences for sports fans. The latter will demand a higher level of personalization, interactivity, and immersion in the future.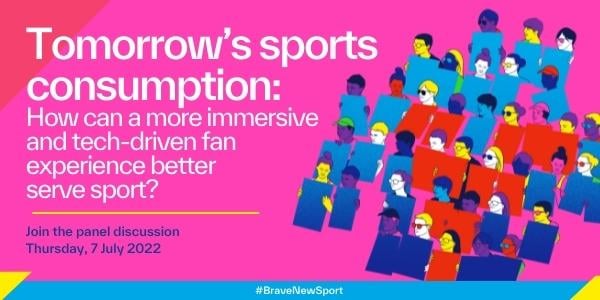 Are you talking about sports broadcasting in the "metaverse" or less complex technical features?
I'm referring to both – but especially to offerings that can already be implemented. Sports broadcasting in the "metaverse" is an interesting thought experiment for the future. In virtually replicated stadiums the immediate proximity to the sports action could be simulated, which in turn would enable a higher degree of emotionality for fans. However, this vision remains relatively far from reality. The access to virtual platforms is still highly inconvenient for users and the required virtual reality hardware has not yet reached the mainstream.

Already today, solutions built on mature digital applications can increase the emotional buy-in of viewers during a broadcast. Low-hanging fruits would be live commentary, question and voting functions on existing social media platforms. A second approach would be to allow fans to choose which commentators they want to listen to on a broadcast – influencers who are not sports experts, for instance. On Twitch, large numbers of younger users are already watching such commentary streams. A third idea would be to provide viewers with additional information such as on-demand statistics.
How do you assess the current positioning of sports broadcasters in view of these new possibilities?
Honestly speaking, I do not observe much innovation from broadcasters. Neither the broadcast formats nor the choice of events broadcast are geared to the needs of younger generations. Clearly, a more experimental approach in areas such as on-demand information or live interaction would be needed to future-proof broadcasting. Broadcasters' market position is also threatened by former industry outsiders. Tech companies and streaming providers are acquiring sports rights for large sums of money.
Nevertheless, I see a great opportunity in the collaboration between new and established players in the sports world, all of which have different competencies in their organizations that the others cannot build up easily. Some organizations hold the sports rights, have a large reach, or possess extensive networks. Others know how to appeal to younger generation or have the technical skills needed for creating new, immersive experiences. In the future, attractive products need to be put together by companies aligning their activities in sports business ecosystems.
How could the roles in these sports business ecosystems be distributed between well-established industry players and new market participants?
Going forward, the role of broadcasters and other content producers will remain important for conveying sports stories to fans. Distribution partners will still be needed to ensure that maximum reach can be achieved. The need for intermediary organizations connecting rightsholders and other ecosystem participants may even grow. Therefore, I believe that established players can play significant roles in these ecosystems.
Regarding new market participants, I think that, in the growing and global sports business world, a clear need for local expertise and proximity to fans materializes. One could call the actors filling this need "refining agents" because, with their localized or otherwise segmented offerings, they can contribute to stronger emotional connections with viewers. "Refining agents" could differentiate themselves with their knowledge of the local context, with the language spoken by commentators, or with a bias for certain teams or players in selecting broadcasting content.
Lastly, there is no question that tech providers will play an increasingly important role in the sports industry. Having in mind the growing technology dependence of other companies in sports, it remains to be seen whether the value creation of the industry can grow significantly or whether the other market participants will have to settle for smaller shares of the market value.
Given the expanding imprint of tech providers on the market, what are the consequences for end-users?
The consequences depend on how tech providers will bring their solutions to customers. The first scenario is that tech companies will join ecosystems and allow customers to pay for broadcasts with tech features at a single customer interface. For users, this would come with a high degree of convenience, but there is a greater risk of monopoly formation.
The second, in my view more unlikely option is that a separate market for technical add-ons will grow. In this case, users would be able to compare add-ons from different providers before making their purchase decision. This scenario would ensure competition and freedom of choice for consumers. However, it would entail an even higher complexity and less convenience.
Given the major developments in sports and media consumption outlined at the beginning, my guess is that convenience will once more be king.
Sven Ruoss, Senior Expert for Digital Transformation and Director of Studies CAS Digital Leadership at University of Applied Sciences in Business Administration Zurich HWZ