According to Infront, the global esports audience is projected to rise above one billion by 2025.

Much like real-life sports, where sponsorships are everywhere, advertisers have used esports in much the same way, getting their brands in front of packed-out stadiums, as well as the millions watching at home. Some of the biggest brands in the world have discovered the power of advertising in esports to reach fans, including Mountain Dew, Red Bull, and Intel, who each sponsor multiple teams and tournaments.

What direction are brands currently taking when it comes to sponsorship within gaming universes?
In the past, gaming audiences could only be reached by sponsorships. Brands would become logo or product sponsors in esports tournaments and large online games like League of Legends. They also worked with teams directly or with influencers and streamers from the esports community.
Previously, it was also mostly endemic brands that were interested in esports sponsorships. Cut to today, and you have brands like DHL providing sponsorship in the DOTA esports universe with their delivery robot mascot delivering in-game assets and garnering huge popularity with fans and the DOTA community. This classic approach focuses very much on authenticity and long-term engagement.
In-game ads allow for an additional approach that is scalable, dynamic, and more efficiently targeted to these audiences over a longer time. Anzu.io helps some of the world's largest brands like American Eagle, Samsung, and McDonald's run campaigns across popular mobile, PC, console, and Roblox titles. This dynamic campaign methodology is relatively new and is additive to what sponsorships have been doing before.
Sponsorships are often limited to brand presence like a logo, which means you would not usually have imminently relevant things, like current campaigns or products. We have rolled out technology that allows advertisers to run in-game ads featuring specific products, sales initiatives, and timings to create more on-brand and immediate product communications. At the end of the day, it's the products that will sell!
Many brands are now opting for a hybrid approach, taking classic sponsorship opportunities in esports and adding the new technological capabilities of in-game that we're providing to extend their campaigns and brand presence.
Where does brand integration in esports as a channel have more potential to positively benefit all stakeholders?
One of the biggest issues for advertisers with brand integration has always been measuring the impact of their ROI. There is a famous quote from John Wanamaker: "Half the money I spend on advertising is wasted; the trouble is I don't know which half."
For years, many tech vendors have been trying to show the brand value of logo placements and exposure in esports. We're able to make this much more transparent because the technology we provide clients with delivers the exact length and frequency of the exposure. We add accountability, viewability data, and exposure data to these activations, which brands are used to from other channels, using KPIs like ad viewability, exposure, and frequency. In fact, we have just launched the first-to-market viewability measurement for in-game ads with Oracle Moat.
Putting this into practice, take the classic example of hard-coded brand integration into a game. If advertisers were to show a product like razors, which has the male product line marketed towards men and female products marketed towards women, that advertiser would potentially lose out on almost half of their audience, given that around 42% of esports audiences are women.
Instead, if advertisers use dynamic ad insertion, they could show the right product to female esports audiences and the classic product to male esports audiences, resulting in much higher relevancy and efficiency.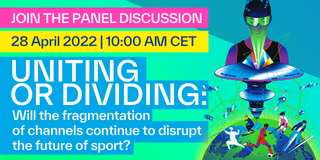 We know that almost two-thirds of female esports fans feel under-represented by the brands that are advertising in games they are playing. This form of advertising benefits advertisers and players who are targeted with relevant ads and developers who receive relevant campaigns that fit within the context of their games.
Who are going to be the winners of the continued fragmentation of esports as a channel over the next 10-20 years?
In the past, esports has often been tied to PC and performance-based titles, with large audiences, huge esports events, and huge budgets to match. Currently, the esports market is projected to value at around $1.6B by 2023. With fragmentation, we're talking about more games and smaller audiences with more potential for advertisers to dive into.
Right now, we have the big esports leagues like League of Legends, DOTA, Counter Strike, and Valorant. The more franchises you have, the smaller each audience will get. This will open up esports for brands of all sizes as the advertising options will become more accessible, and it will be easier to reach specific audiences, as the leagues will cater to more selective and niche player groups.
Growth in the interest of esports globally and competing teams, new games to play, and unique advertising opportunities means brands that work quickly to adopt these are most likely to "win" over these audiences and reap the benefits of a rapidly growing channel.
I think the winners are going to be the consultants and mediators who are going to be needed to sell the inventory to new players in the market, who have gone into esports before but are now seeing the potential to tap into more niche audiences that are a good fit for their brand. The more fragmented any market becomes, the more experts you need to have, so these gatekeepers in charge of funneling where the money comes from and where it goes to will need to have a holistic approach to benefit from the bigger picture of esports.
If we think about how this will look in the future, mobile esports will take off in a big way, which will bring new audiences and new geos to the table which have not been relevant before. Just look at the popularity of the Free Fire World Series 2021 in Singapore - an average of almost 2.1 million viewers attended the nine-hour-long finals of the popular Garena Free Fire mobile game esports tournament, peaking at over 5.4 million, as the teams battled for a $2 million grand prize.
Also, in Africa and developing countries, traditionally you didn't have as many esports players because they couldn't afford a high-end gaming PC. Now, mobile esports, with relatively cheaper required investments in gaming hardware, technological advances in cloud gaming, and the advent of 5G - potentially 6G in the next 20 years - will open the door to developing countries worldwide.
This is the first in a series of three articles designed to foster and encourage dialogue and debate on the topic of "Brave New Channels", as we seek to explore what future channels and platforms sports fans could flock to in the coming years and decades.
Get involved, share your ideas and join the "Brave New Sport" discussion.